One thing that causes us stress is: The Great Unknown.
We fear what we do not know, and that stresses us out. It stresses us out that our research about the Assassination of John Lennon would not get the upraise we expect from our instructors. It stresses us out that our boss gave us overwhelming tasks and we do not even where to start. It stresses us NOT knowing, it practically drives us mad.
Now I am not here today to give you some cliché tips, offer you a lollipop, and tell you not to stress. I am here to do the opposite. This is an advice that is coming from the depth of my heart: It is okay to be stressed.
1- It is okay to overthink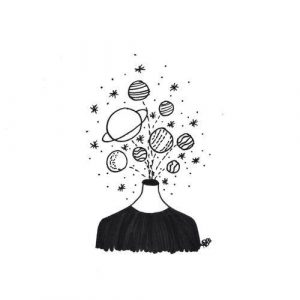 No problem fades away without us talking ourselves out of it, and that can only happen when we thoroughly ponder upon it. Overthinking is not usually a bad thing to do; it is all about the way we overthink the situation:
How not to think: The traffic is so bad I will not make it in time!
How to think: The traffic is bad, but I will make it in time. And even if I did not, they will understand. It is going to be okay.
It is all about mind tricking. Trick your mind into thinking whatever you want it to think about.
2- Cry, please. You deserve to feel
Crying is the absolute most relieving stress technique I could think of.  It is not a sign of weakness, nor does it bring shame and disgrace to our tribe. We are humans, and humans get to be sad and get to cry.
Cry for the bad grade you took in Math even though you studied hard for it. Cry because of the way your "friends" are treating you. Cry NOT because you are desperate, but because you are free. You deserve to grow. And in order to grow and overcome all your trouble, you deserve to feel.
3- Do not forget to breathe
The most essential thing in any kind of stressful situation is breathing, as it eases up our anxiety and helps us think clearer. Here is a breathing exercise that I find very effective when I am stressed and cannot think well (Repeat once or more):
Breathe in for four seconds
Hold your breath for seven seconds
Exhale breath for eight seconds
This causes an autonomic nervous system shift from a sympathetic (fight or flight reaction) to a parasympathetic response.
4- Love yourself
You have spent your life hating on yourself and doubting your every move, what did that achieve to you? Nothing but stress and poor work. Now try the alternative: Love yourself. Convince yourself that you are better than the image you have put in front of you. Have faith in your work, and trust your instincts.
One thing we should agree on is facing our fears in order to overcome them, and love our skin instead of scratching it until we bleed. There is no shame in failing, and there is no shame in stressing out about the unknown. The most important thing is to pick ourselves up and chase what we do not know, and always, always, remember:
No matter how hard and stressful it is now, it will definitely be gone tomorrow.
Wouldn't it?
---
– Nour Abdelrida
I tend to come off like Chandler Bing, from friends who tells jokes, nervously. Senior Journalism student. I am a VERY positive person. Volunteer in many NGOs. I have an obsession in History & specifically the British Invasion or Hollywood's golden age. My GOOD different is me.