Come to think about it, we as people are always thinking of how we can become better, our BEST Self. Our main concern is always "How can I be better" or "Is this the best I could become". In this continuous search for a better self, some of us might get lost. Some of us might not know where to start to begin with, which are all normal things trust me!
So from one fellow person trying to achieve my best possible self, here are some things I found to be very helpful:
1. Set goals, achievable ones!
You can never get there, unless you know where there is. Whether you sit down and write your goals on a paper, or you just quick save them into your brain, setting a goal or an end-point is the place to start. The key here is setting things that can actually be achievable, and knowing that these goals are editable for later. In other words, set something that you know you can do even
if it seems hard, just don't contest Superman for his power! And know that you can increase/decrease your goal limit later on.
2. Study your environment
Now that you've taken the first step and know your goals, take a look around. Classify what helps and what doesn't, and take out the obstacles. Charge at them. Break them. Do whatever it takes to overcome anything that tells you "no".
3. Find your motivation
Whatever you do, don't stop. Give yourself the time to do it, and find inner motivation that drives you forward. This won't be a 1-day gist. If you want to notice some results soon, set long term and short term goals respectively.
4. Be yourself
You are different, GOOD different. Find your better self within your own personality because you, my friends, are in perfect starting condition.
Until next time, Good luck.
---
– Mustapha Zebdawi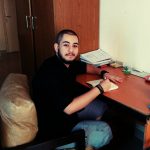 Physical therapy @ BAU. Firm believer in the physical mental & social wellness triad. My GOOD different power is self-determination.