For any mom it is hard to figure out what to do when your kid breaks down into a fit, especially when other people are watching you unsuccessfully trying to reason with your child. It's hard to get them to stop and calm down. Here are 7 tips to help you stop a child's temper tantrum in public.
Start Early
Early prep work from home can stop a lot of future tantrums. Choose a happy moment to discuss situations your child might face. Give them various scenarios and ask them to offer ideas in how to react appropriately. Set up certain expectations with your tot before you leave the house. For example, if you are going to the store, tell your child that "we are going to the store to buy food, not toys, therefore you will not cry or shout". Have your child repeat that information back to you, and discuss it over and over again. Repetition and having you child rephrase it will make your point clear. It is also helpful to keep a diary. Write down the day the tantrum occurred, where, why, and what happened before and afterwards. This may give you a better idea as to why the tantrums are happening and how to stop them.
Stay Calm
Getting angry and yelling at your child to be quiet will upset them even more. It is important that when your child is having a tantrum to speak to them in a calm and low voice and to act deliberately and slowly. A tip that might help you stay calm is closing your eyes and counting to ten before proceeding to address your child.
Distract Them
Distraction work best when the outburst is brewing and when used appropriately can also put a quick end to a tantrum. Some distraction ideas include singing their favorite songs, pointing them to something interesting, doing something unexpected such as dancing and playing silly games. Make sure to have a number of distraction tools since no single distraction works every time.
Don't Cave
If a tantrum occurs because your child wants something, do not cave and give them what they are asking for. This will teach your child that they will get what they want if they shout and cry long enough, which will result in more future tantrums.  Finish what you need to do, get your child out and let him know how disappointed you are.
Reward Good Responses
If your child comes out of their tantrum quickly and efficiently reward them with praise.  If you feel like the tantrum is about to start, remind your child of how good they have been so far and offer lots of praise. You can even make a reward chart at home, where you reward good behavior with a sticker and award stickers for when your child stops himself from throwing a fit and calms himself down.
Consistency is Key
Being consistent is crucial in managing tantrums and conflicting responses can cause an increase in future tantrums. As long as you handle tantrums effectively at home, by ignoring them and not caving, they'll eventually lessen in public. Children also love to test their parents in order to see how they'll react. However, if they are given the same response each time, they'll soon get bored and stop.
Ignore the Strangers
Most of the time, the parents start getting anxious when their kid has a public tantrum because of the unfriendly eyes watching them.  These strangers are just random people. They don't matter. So put them out of your mind and focus on your kid. Also, although it feels like everyone is watching you, most people are actually too preoccupied with themselves and aren't paying attention.
Resources:
*http://www.sheknows.com/parenting/articles/811212/7-tips-to-stop-temper-tantrums-in-public
*https://www.bellamysorganic.com.au/blog/12-tips-for-managing-toddler-tantrums-in-public/
---
– Noura Hassouna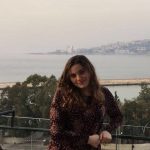 20 Year old psychology student @ LAU. Lover of photography & travel. I actually have a bucket list of places I hope to visit one day. My GOOD different is being nice and express kindness to whomever and however.