F.I.S.T Approach
The most life changing decision is determining one's career. Channeled from determining a career path to a social construct of who to please and/or disregard, the choice remains to be focused on individuality. The  "F.I.S.T: Focus – Isolate – Study – Think " approach is the way to go.
1-  Focus
The first step towards an ideal career choice: focus on choosing a major that will accompany you for the rest of your life. This choice dictates what you will be studying and practicing. Focusing entails channeling the energy into exposing yourself to new options, attending career fairs, and recognizing the importance of it being your choice, not your family's, friends' or teachers'.
2- Isolate Yourself
One of the main deviations from the correct path of career choice results from social interference. Ever since the early high school years, parents begin to consider their son/daughter's career and inject their hopes into them. These ideas, coupled with the social construct of making parents proud, widely affect and impair the individual's choice/judgement.
The psychology of self- reflection has proven to be effective in increasing productivity, self-consciousness and confidence incrementally. Isolate yourself for an average of ten minutes a day to self-reflect upon your personality, interests and many more.
3- Study The Market
Considering the market and its mechanisms is crucial. A common economic logic that has been prevailing is the mechanism of Supply and Demand. Whenever a good/service is in high demand, its price starts off high. People, who care for their best-interest, will notice the profitable field, acquire the skills and supply the good/service thus decreasing its price. This mechanism has been disregarded when choosing a career path. While recognizing interests/strengths, consider the market you are entering and the following questions:
Is the market in need of workers or is there a labor surplus and a chance of unemployment?
What is the future of this market?
Is the market suitable for you ?
(Consider factors such as job specifications in comparison to capabilities and personality; look for a huge compatibility.)
The ideal job is that of rare supply but is in high demand (examples of which include Economics, Psychology, Education, Urban Planning and Sociology). These jobs are within the interests of many but are fewly supplied due to the lack of a prestigious social connotation driving one's judgement.
4- Think Thoroughly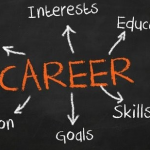 Using efficient time management skills, allocate time to research. Contact experts, university professors and other professionals in the field and  consider a career advisory or  counselor.  Through research, passion builds up;  a re-affirming notion of the correct career. Give yourself time to build this passion on solid grounds; conviction and objectiveness.
The F.IS.T Approach guides will guide you through the right path to one of the most important decisions. A small decision holds great impact; opt for the long run, think rationally, think passionately!
---
– Petra Helal
Senior Economics, Political Science & International Affairs student @ LAU. 21 years old. 3 year long Model United Nations leader. Enjoys investing her time into self & community development. Passionate about leadership & helping the youth. My GOOD different is thrive for change.